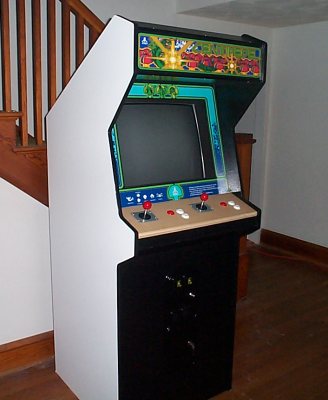 This is my first cabinet. I built it from scratch over the last week or so. It's probably obvious that I'm still a ways from done. Sorry I don't have any pictures from the early construction phases. I was in a hurry because I only have a few days between contracts (I'm a freelance programmer and consultant).
The Centipede cabinet design is one of my all time favorites so that's why I went with it. I used Jakobud's Centipede CAD drawing for the dimensions. I think those dimensions were collected by Carsten Carlos. Anyway, it's nearly all original Centipede dimensions except it is 2″ wider so the TV will fit. It also has a shelf for the TV rather than the normal front mounting stuff.
I don't like frankenpanels so I opted for swappable control panels. I used cabinet latches to make it easy to pop in and out. At some point I'll take some pictures of how this works. I still need to design and print up some nice panel overlays.
For the insides I used standard stuff from OSCAR, Ultimarc, and Happ. I-PAC, Opti-PAC, J-Stik's, Happ coin door. I have a Vortex spinner and 3″ Happ trackball that will be on their own panels. I haven't decided if I want the player start buttons on the control panels or on the cabinet. I'm still looking for cheap Atari "volcano" start buttons.
The computer is an old Celeron 300A running at 450 Mhz. TV-out is via Radeon 7500.
The monitor is a 24″ S-Video TV that I got just for this project. I went with a 24″ TV because I figured the vertical height would be close to what a 19″ vertically mounted arcade monitor would be but I can still play horizontal games. Anyone know the actual screen dimensions of a 19″ arcade monitor?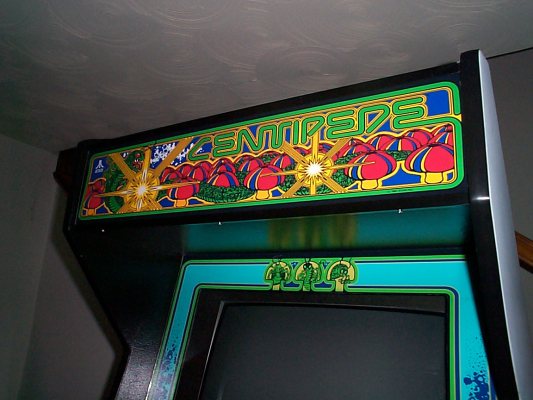 I widened and stretched the marquee before printing on wide format thick photo paper (seamless). I'm very happy with the quality as I used HP's 8-ink 7960. It's sandwiched between 1/16″ plexiglass in front and thin diffusing sign plastic in back. The retainer is just 1/2″ aluminum angle painted black. It looks really nice when lit from behind but I haven't installed a light yet. Carsten provided the high-res graphic (big thanks!).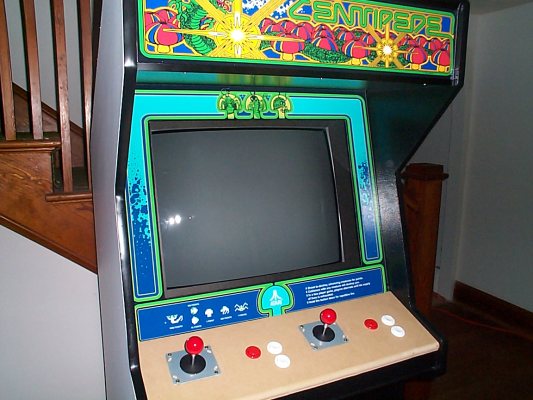 The bezel is a hacked up version of Justin's vectorized Centipede bezel (thanks!). I had to change it to fit my dimensions. I printed it on an almost plastic-like photo paper and mounted it to foam-board. Everything is behind an 1/8″ thick sheet of clear plexiglass.
The whole cabinet is painted. I think I would use laminate next time… I won't mention how many times I've had to touch up that black paint… Of course working with it before it's dry is always a problem.
I think I'd like to put up a web page describing everything in more detail.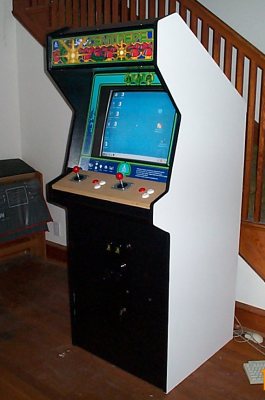 A little update to my project:
The spinner (Tempest) control panel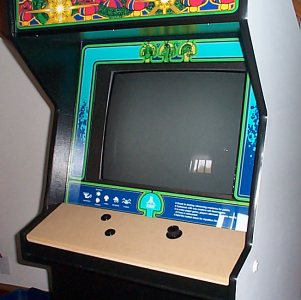 … and the trackball panel. Everything is flush mount except the carriage bolts. The layout is like Centipede but I added some buttons for Missile Command and other games.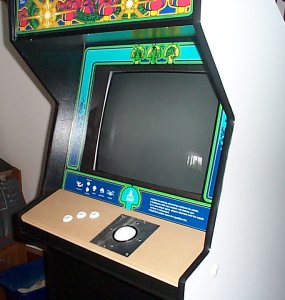 I also added buttons to the sides for pinball. I placed them such that I can rest my hands on the edges while playing.
I still need to create the control panel overlays. I ran out of buttons so I'm waiting for parts.