See also my HiSKY/HT8 for 9x thread.
Attached is my ER9x model for the V922.  I have the HT8 set for Futaba mode.  Note this model has no "beginner" mode or even idle-down (ie. full 3D always).  To fly start with the F.MODE switch all the way up (ID0), move pitch/throttle to mid-stick, then switch F.MODE down one click to "1".  It will spin up to full throttle within a few seconds.  The throttle cut switch works but what I do is just flick the F.MODE switch all the way up, this is much faster than reaching for the throttle cut.
These are the settings used in the model:
---
PPM
6CH
400uSec
PPM FrLen
16.5mSec
PPM Shift Sel
NEG
ELE Direction
INV
AIL Direction
INV
Swash Type
120
Swash Ring
100
ELE EXPO
0%
D/R
47%
AIL EXPO
0%
D/R
60%
CH1
CYC1
50%
CH2
CYC2
50%
CH3
Throttle
CH4
Rudder
CH6
CYC3
50%
LIMIT CH3
INV
LIMIT CH4
INV
Throttle
flat 100%
Pitch
± 68%
---
I have converted to brushless using the HK 14000kv motor and a modified HK XP-3A ESC that has new double-stacked FET's. I'm using Hyperion 550 mAh batteries for about 6:30 minutes flight time.
I measured the PWM signal on the main motor FET gate. It appears to have an 80us cycle time which means 12.5 kHz signal. With a 9x/HT8 the PWM signal starts minimum throttle (18% duty cycle) at approximately -52% and is full throttle at around 39%. These are only approximate because of calibration and PPM timing differences between radios.
Attached to this thread is a custom version of BLHeli specifically built for the V922. BLHeli normally only supports a maximum of 8kHz PWM on its signal wire but the V922 motor output runs at 12.5kHz. What this does is make the throttle skip from 66% to 100% with no way to use any value in between. My custom version of BLHeli multiplies the signal by 1.5 to bring the 8kHz calculations up to 12kHz and this makes the throttle perfectly linear. Also attached are patch files that show the source changes I made. I built versions using BLHeli 9.4 and 10.3. I use 9.4 but the latest BLHeli is 10.3.
BLHeli 10.4 now supports 12kHz so no need to use my version of BLHeli unless you want to run an older version (I currently still use 9.4).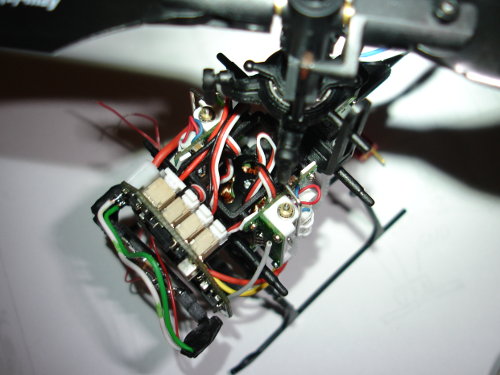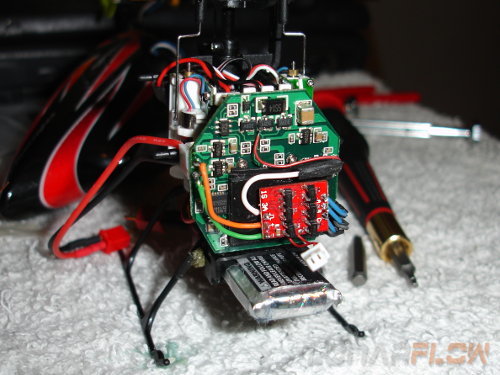 New paper canopy, although I think I'm going to end up using this on my mCPX. It's made with card stock which is a little too heavy for my liking (3.7g). I'm going to try to make another with lighter materials.